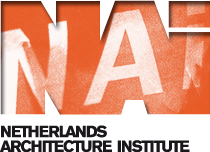 Once renowned for their strict government-controlled spatial planning, many former communist cities in the Western Balkans have been transformed by feverish and uncontrolled urban growth. How can new cultures of spatial planning be created in a region where not only residents but even architects and urban planners can feel excluded from spatial developments? In collaboration with POLIS University, Co-PLAN, EXPEDITIO and ASA, the NAI is organising a Debate on Tour to Tirana, Podgorica and Sarajevo from 4 to 6 July 2011 to address these issues.
The debate in Podgorica will be held on Tuesday, 5th July 2011, at the Karver Bookstore, beginning at 18.00 h.
The debate programme:

18.00 Word of welcome and introduction - Tatjana Rajic / Aleksandra Kapetanovic, Expeditio
18.05 Introduction to the NAI Debates on Tour programme - Chris Luth, curator of international projects at the NAI
18.10 Introduction to the topic - Besnik Aliaj, Co-Plan
18.20 'Montenegro - Current Planning and Design Approaches, Challenges, and Problems'- Ina Boljević, Ministry of Sustainable Development and Tourism
18.35 'Scales of Intervention' - Marcel Musch, Architect and independent design consultant
18.55 'Contemporary Spatial Developments in Montenegro and the Role of Architects' - Jelisava Kalezić, Architect and Urban planner form Podgorica
19.10 'The Making of', Hans Venhuizen
19.30 'Current Architectural Discourse in Montenegro and its Achievements' - Veljko Radulović, University of Montenegro and Studio "Grad"
19.45 Debate - Moderated by Besnik Aliaj, Co-Plan
20.30 Drinks
Simultaneous translation is provided. WELCOME!
Additional information about the event can be read at the site of the Netherlands Architecture Institute here