Within the project ACT4CITY, the Ministry of Space has began realizing different events, actions and installations in Belgrade in order to point out to unsustainable character of current policies for the city development and to give impetus for a struggle for a sustainable city. In the previous period two actions have been held, while eight more with different thematic focus will be organized by the end of the year. Below you can read about beginning of activities in Belgrade.
The first action was organized on 14 May 2016 in the suburb of Vinča where the infrastructure for a Youth Centre for Culture and Environment - Egzoprostor was set up and a picnic organized for the neighborhood. This centre has a twofold significance for the community because it contributes to the decentralization of cultural offer and strives for ecological preservation of the Danube River by actively working on the removal of illegal dumps from the river's shore. Around 40 people from the local community attended the event and became acquainted with the plans for Egzoprostor and possibilities for joining its future activities.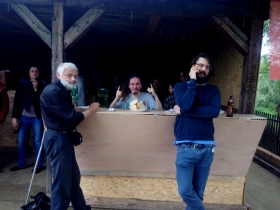 The second action was organized on 29 October 2016 in cooperation with the association Ulice za bicikliste / Streets for Cyclists as part of their regular gathering of cyclists - Critical mass. During the ride, which was attended by over 100 people, makeshift barriers, one meter wide, were mounted on many bikes in order to warn other road users to respect a minimum distance when overtaking cyclists. The idea is to create a traffic culture that would encourage more people to use bicycles in the city. The action was covered by the
local mediai
(BLIC).
------------
ACT4CITY is funded by Balkan Arts and Culture Fund BAC. BAC is supported by the Swiss Government through the Swiss Agency for Development and Cooperation (SDC) and the European Cultural Foundation (EFC).