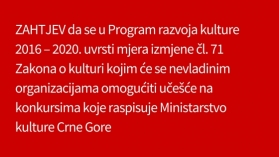 On 15 March 2016, Expeditio submitted an appeal to the Ministry of Culture requesting that the new Programme for the Development of Culture 2016 – 2020 should include the amendment of Article 71 of the Law on Culture that would enable non-governmental organizations to participate in calls for proposals announced by the Ministry of Culture of Montenegro. The appeal was signed by 122 stakeholders, mainly NGOs, several informal associations and individuals and one political party. Copied below is a full text of the appeal with a list of its signatories.
The APPEAL has been supported at the regional level by a team and members of the Managing Board of KOOPERATIVA - Regional Platform for Culture for the area of former Yugoslavia.
------------------------------------------------
N/R G-din Pavle Goranović, Ministar kulture
Ministarstvo kulture
Njegoševa bb
81250 Cetinje
ZAHTJEV da se u Program razvoja kulture 2016 – 2020. uvrsti mjera izmjene čl. 71 Zakona o kulturi kojim će se nevladinim organizacijama omogućiti učešće na konkursima koje raspisuje Ministarstvo kulture Crne Gore
Poštovani G-dine Goranović,
od usvajanja Zakona o kulturi, nevladine organizacije iz Crne Gore uskraćene su za mogućnost korišćenja javnih sredstava koja se dodjeljuju na godišnjem konkursu Ministarstva kulture. Ovakvim tretmanom dodatno je oslabljena, ionako slabo razvijena, nezavisna kulturna scena, odnosno kulturni akteri koji djeluju van institucija sistema.
Podsjećamo da je pitanje prava učešća na konkursu koji raspisuje Ministarstvo kulture definisano članom 71 Zakona o kulturi ("Sl.list Crne Gore", br. 49/08, 16/11 i 38/12) koji kaže:
Pravo učešća na konkursu
Član 71
Pravo učešća na konkursu imaju fizička i pravna lica koja imaju prebivalište u Crnoj Gori, odnosno koja su u Crnoj Gori registrovana za obavljanje djelatnosti kulture, osim nevladinih organizacija i javnih ustanova i drugih subjekata čiji se rad finansira iz budžeta Crne Gore, odnosno budžeta opštine sredstvima planiranim za kulturu.
Projekti aktera nezavisne scene trenutno mogu biti finansirani kroz budžete opština, sredstvima planiranim za kulturu ili kroz konkurs za Raspodjelu dijela prihoda od igara na sreću. Dosadašnja praksa pokazuje da su budžeti opština za podršku NVO sektoru (generalno) veoma mali, a kada se i dodjeljuju za projekte kulture, onda je to uglavnom za afirmaciju tradicije i kulturne baštine, dok savremene kulturne prakse ostaju po strani. Kada govorimo o Raspodjeli prihoda od igara na sreću, budžet ovog konkursa za oblast Kultura i tehnička kultura, iznosi svega 10% od ukupnog budžeta (iznos se odnosi na javne ustanove i nevladine organizacije).
Rješenje prema kome su NVO-i koji djeluju u sektoru kulture preusmjeravani na opštinske konkurse i konkurs koji raspisuje Komisija za raspodjelu dijela prihoda od igara na sreću, kako je praktikovano proteklih godina, nije dalo dobre rezultate budući da:
sredstva iz ovih konkursa nisu dovoljna za kvalitetan i inovativan razvoj nezavisne kulturne scene;

kompetencije komisija koje vrše selekciju projekata u lokalnim samoupravama i na konkursu od Igara na sreću nisu uvijek adekvatne da ocjenjuju projekte iz oblasti kulture kakve bi trebalo da ima Ministarstvo kulture u pogledu definisanja prioriteta i kriterijuma selekcije predloženih projekata - naročito u oblasti savremenih praksi;

iskustvo pokazuje da sufinanisanje EU projekatau oblasti kulture (npr. za Creative Europe se zahtijeva 40%), zbog preskromnih raspoloživih budžeta opštinskih konkursa i Igara na sreću, nije moguće obezbijediti, čime se nezavisni kulturni akteri dodatno obeshrabruju da koriste sredstva EU;
Na kraju, dosadašnja praksa odnosa Ministarstva kulture prema razvoju nezavisne scene predstavlja, nažalost, negativan primjer odnosa države prema vaninstitucionalnim kulturnim akterima i usamljen je slucaj u regionu bivše Jugoslavije. Time se ostavlja loša slika o tretmanu crnogorskog civilnog sektora sto je u suprotnosti sa preporukama EU kada je u pitanju saradnja institucija sistema i NVO. Za primjer je Hrvatska u kojoj postoji državna fondacija za podršku organizacijama nezavisne kulturne scene, dok u Srbiji Ministarstvo kulture obezbjeđuje dio sufinansiranja projekata kulture odobrenih iz EU fondova.
Nezavisna kulturna scena Crne Gore proizvodi značajan dio kulturnih programa, čak i u ovako teškim uslovima, ali je očigledno da se ona ne može razvijati bez pomoći države. Ukidanjem finansijske podrške razvoju nezavisne kulturne scene (koju čine, uglavnom, registrovane nevladine organizacije) onemogućava se ukupan rast sektora kulture, te jačanje kapaciteta pojedinih aktera za učešće na međunarodnim / EU konkursima, što bi trebalo da bude od interesa za strateško opredjeljenje Crne Gore.
Stoga molimo da se uvaži i ispoštuje naš zahtjev da se u Program razvoja kulture 2016 – 2020. uvrsti mjera hitne izmjene čl. 71 Zakona o kulturi kojim će se nevladinim organizacijama omogućiti učešće na konkursima koje raspisuje Ministarstvo kulture Crne Gore.
Potpisnice ZAHTJEVA:
NVO Expeditio – Centar za održivi prostorni razvoj, Kotor

NVO NOVA, Podgorica

NVO Hartija, Bar

NVO Boka, Tivat

NVO Avlija, Rožaje

NVO URBAR, Podgorica

NVO Otvoreni kulturni forum, Cetinje

NVO Crnogorsko društvo nezavisnih književnika, Podgorica

NVO Krug, Podgorica

NVO ArhKomuna, Podgorica

NVO Omladinski kulturni centar Herceg Novi

NVO Urban Nova, Herceg Novi

NVO Fenomeni, Kolašin

NVO Sinestezija, Herceg Novi

NVO Agora, Budva

NVO Muzika-Alternativa-Kultura, Podgorica

NVO Fabrika 15, Podgorica

Opštinski Odbor GP URA-Kotor

Ljiljana Popović Moškov dipl.ecc-Kotor

NVO Aktivna zona, Cetinje

NVO Cetinje moj grad, Cetinje

NVO Sinergija, Herceg Novi

Adela Barba, spec.app hotelijerstva

Marica Kuznjecov Boljević, dipl. graf. dizajner

NVO ASSITEJ Crna Gora - udruženje za razvoj pozorišta za djecu i mlade, Kotor

NVO Ženska Akcija, Nikšić

NVO Zabjelo Republika, Podgorica

NVO Udruženje ljubitelja Gorice i prirode, Podgorica

NVO ZA DRUGA, Petrovac

NVO Ekološko društvo - Budva

NVO Udruženje mladih sa hendikepom Crne Gore (UMHCG), Podgorica

NVO G-3Art, Tivat

NVU Institut za savremenu umjetnost, Cetinje

NVU Crnogorska alternativna kultura, Podgorica

NVO Mladi romi

NVO Crnogorski filmski festival (Underhillfest), Podgorica

NVO Montenegro Art Production, Podgorica

NVO KANA - Ko ako ne arhitekt?, Podgorica

NVO Brljok!, Podgorica

Neformalno udruženje Gradio, Podgorica

NVO Baletska trupa Ballo, Podgorica

NVO Alternaut, Herceg Novi

NVO SeaRock, Kotor

NVO Bruna, Herceg Novi

NVU Strategijski Marketing, Podgorica

NVO Kulturni Turizam, Podgorica

NVO Fiat, Podgorica

NVO MedCEM, Sutomore

NVO Pozitiv, Podgorica

NVU INTER MONT, Podgorica

NVO Udruženje pozorišnih kritičara i teatrologa Crne Gore, Podgorica

NVO Kulturni centar PUNKT - Nikšić, Nikšić

NVO Udruženje paraplegičara Bijelo Polje i Mojkovac

NVO Udruženje mladih volontera ,,ISKRA", Bijelo Polje

NVO Montažni skok (Jump Cut), Bar

NVO Centar za multimedijalnu produkciju - CEZAM, Podgorica

NVU OGIN, Bar

NVO NADA, Herceg Novi

NVO Matica Boke, Herceg Novi

60. NVO GLAS, Herceg Novi

NVO Asocijacija hercegnovska alternativa

NVO Muzička Omladina Crne Gore, Podgorica

NVO Prostori, Podgorica

NVO Pro Futuro, Niksic

Ana Matić, grafički dizajner (FLU Cetinje / FLUID dizajn forum)

NVU Pilon, Podgorica

NVO Paštrovsko istorijsko društvo, Buljarica

NVO Nasa akcija, Kotor

Gradjanka mreza Nesvrstani

NVO Filmska fondacija Živko NIkolić, Nikšić

NVO Umjetnost džeza-Jazz Art, Podgorica

NVO Kompas- Centar za informisanje i savjetovanje mladih- Kotor

NVO Meštar i furešta, Kotor

NVO Centar za zaštitu i proučavanje ptica, Podgorica

NVO Performa Ars International, Podgorica

NVO Mladiinfo Montenegro

NVO Zona kulture, Podgorica

Ljubomir Filipović, Budva 2020

Udruženje starih zanata i njegovanja nematerijalne kulturne baštine "Nit", Podgorica

NVO Centar za ženska prava, Podgorica

NVO Avantura Montenegro, Podgorica

Ljiljana Karadžić, istoričarka umjetnosti

Radio Bruškin, Kotor

Tomislav Žegura, Kotor

NVO Trening centar "TARABA", Podgorica

NU BUDVANSKI KULTURNI IDENTITET, Budva

Ana Ponoš, Podgorica

NVO Infomont, Budva

NVO Hercegnovsko pozorište, Herceg Novi

NVO Kreativni centar TivaT, Tivat

NVO Srpski Soko Herceg Novi

Marija Starčević, prof. Književnosti

Savjet za ekološku gradnju Crne Gore GBC ME

Mirela Čormaković, istoričarka umjetnosti, Budva

Marija Čolpa, magistar dramaturgije, docent

NVO Manoveki, Bar

Goran Pajović, arheolog

NU Život i Zdravlje, Podgorica

Patricia Pobrić, magistar Organizacionog vodjstva

NVO Inzenjerski pedagoški forum

NVO RUKE, Herceg Novi

NVO Art fokus, Podgorica

NVO Udruženje kompozitora Crne Gore, Podgorica

NVO Vox mirus, Podgorica

NVU DES Scena, Bar

NVO AUT, Podgorica

NVO Broj 19, Bar

NVO Avenir, Herceg Novi

NVO Zvjezdana Prasina - Jazz & Blues Club, Herceg Novi

Dukley European Art Community, Budva

NVO CCEE, Podgorica

Bobo Stanišić, Podgorica
NVU Prijatelji, Herceg Novi

Dejan Đonović, glumac

Sladjana Vujovic, reditelj
ZAHTJEV podržava tim i članovi/ce Upravnog odbora KOOPERATIVE - Regionalne platformeza kulturu za područje bivše Jugoslavije (http://platforma-kooperativa.org):
Milica Pekić, predsjednica UO Kooperative, Beograd, Srbija

Iskra Gešoska, zamjenica predsjednice UO Kooperative, Skoplje, Makedonija

Nataša Zavolovšek, zamjenica predsjednice UO Kooperative, Ljubljana, Slovenija

Teodor Celakoski, član UO Kooperative, Zagreb, Hrvatska

Tatjana Rajić, članica UO Kooperative, Kotor, Crna Gora

Katarina Pavić, koordinatorka Kooperative, Zagreb, Hrvatska

Mirela Travar, programska koordinatorka Kooperative, Zagreb, Hrvatska